Cameron Kennedy



Born

October 6, 1993 (age 25)
Toronto, Ontario, Canada

Occupation

Actor

Years active

2008-present

Role
Cameron Kennedy (born October 6, 1993) is an American actor. Kennedy began his acting career as Zach in the ensemble film "Toronto Stories" (2008). In 2010, he starred in the television movie "My Babysitter's a Vampire" as Rory,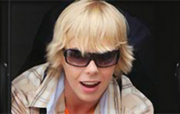 a high school student who blythely throws himself into, and out of, the supernatural occurrences that seem to plague his town, mostly everyday. Kennedy reprized this role when "My Babysitter's a Vampire" became a television series in 2011.
That same year Kennedy co-starred alongside Toni Collette and Michael Sheen in the film "Jesus Henry Christ" as Jimmy Herman. The film, which was produced by Julia Roberts and her sister Lisa Roberts Gillian, debuted at the Tribeca Film Festival in the spring of 2011. It was written and directed by Korean-American filmmaker Dennis Lee and was filmed in Toronto and Hamilton, Ontario.
In addition to his feature film and television roles, Kennedy has appeared in various theatre productions such as "A Midsummer Night's Dream" as Bottom and "The Wizard of Oz" as the Scarecrow. He has leant his voice to animated series such as "Super Why!" (Principal) and "Beyblade: Metal Fusion" (Takashi).
Personal Life
Kennedy served as secretary on student council for three years at St. James Catholic High School in Guelph, Ontario. He has a website on which can be found links to his Facebook, Twitter and YouTube accounts. Kennedy is a Libra.
Filmography
Television
Film
Theater
External Links